Nishinomiya City Library Information
Last updated date: Apl 1, 2015
Welcome to the Nishinomiya city library.
The library is communal facilities that everyone can readily use.
If you can make up the sign-out card, you can borrow and reserve.
We defend user's privacy. The record of your use is deleted at the same time as your returning material. We don't use individual information registered in the library except the management for library.
The use of the library is free. (The copy service is charged. )
contents
To Check out Materials(Books/CDs) for the First Time
Those who reside, work or attend school in Nishinomiya can register to borrow materials from the Nishinomiya municipal libraries.
Those who live in the cities of Amagasaki, Ashiya, Itami, Takarazuka, Kawanishi, Sanda and Inagawa need to register to borrow materials from the Nishinomiya municipal libraries.
To obtain a library card, fill outan application form(PDF/333KB) and visit any Nishinomiya municipal library location to submit it to our staff in person.
Bring your ID (health insurance certificate, driver's license, or student ID). Those in the 6th year of elementary school and under do not need ID.
You can borrow books from any of our libraries including branches with one library card.
Let us know when you lose your card or you have changed your name, address, or telephone number.
Your library card registration is renewed every three years. You will continue to use the same card, so do not lose your card.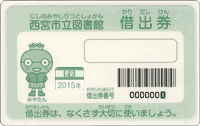 To Check out Materials(Books/CDs)
Bring materials and your library card to the check-out counter.
At all the city library locations including the branches, you can check out up to a total of 15 books and 2 CDs at one time for 2 weeks.
CDs are housed in Central library, Northern library, Naruo library, Kitaguchi library, and Yamaguchi branch.
To Return Materials(Books/CDs)
When returning materials, you do not need to show your library card. Just bring materials. When returning CDs, you should wait at the counter until the library staff finishes checking them.
You can return materials to any of the Nishinomiya city libraries including the branches.
After hours, you can return books by dropping them into a return box. Do not put CDs, books with CD-ROM or interlibrary books in a return box as they are breakable.
The available time of the return box
Libraries

| | |
| --- | --- |
| Central library | 7:30 a.m. - 8:00 p.m. |
| Northern library | 7:30 a.m. - 10:00 p.m. |
| Naruo library | 7:30 a.m. - 8:00 p.m. |
| Kitaguchi library | 8:00 a.m. - 9:00 p.m. |
Branches

| | |
| --- | --- |
| Koshikiiwa branch | 9:00 a.m. - 10:00 p.m. |
| Danjo branch | 9:00 a.m. - 10:00 p.m. |
| Uegahara branch | 9:00 a.m. - 10:00 p.m. |
| Kotoen branch | 8:30 a.m. - 8:00 p.m. |
| Takasu branch | 7:30 a.m. - 8:00 p.m. |
| Yamaguchi branch | 9:00 a.m. - 10:00 p.m. |
| Wakatake branch | 8:30 a.m. - 10:00 p.m. |
Note
Please ensure that the material is returned to our library by your due date.
Please handle materials carefully. If a material is lost or damaged, you may have to pay for its replacement.
We assume no responsibility whatsoever for any damages to your player caused by playing CDs and CD-ROMs.
If You Cannot Find Materials (Books/CDs) You Want
You may place requests for checked-out materials.
Every effort will be made to provide you books not available at the Nishinomiya municipal libraries, through purchasing or interlibrary loan.
There are materials that you cannot place requests for, such as CDs not housed in the Nishinomiya municipal libraries.
Using the Internet
You can access our online catalog, "Ochanoma Library," via the library website.
A password is needed to access your account. Once your account has been set up, you may place an online request for materials and check to see what materials you are now borrowing or requesting.
You may get a password for your account at the check-out counter. Show your library card and ID (health insurance certificate, driver's license, or student ID) along with an application form.
A password is issued to those who are junior high-school students or older.
Library Services
Locate Information

Library staffs at the research and consultation desk can answer reference questions and help you locate materials.

Photocopying

Books and materials owned by libraries can be copied under the copyright act at Central/Northern/Naruo/Kitaguchi libraries. A fee will be charged.

Audio-Visual Materials

Music materials, films and audio- visual materials on general culture are available on site at Central/Naruo/Kitaguchi libraries.

Service for People with Disabilities

People with disabilities can receive library materials by mail. Story reading service is available in person.

Services to Community Groups

Small collection of library materials are available to community/private deposit collection and reading groups.

Library Events

Story reading, video showing, book fairs and seminars are offered.
Information on municipal libraries can be found in the following media.
Library publications
Nishinomiya City web site (http://www.nishi.or.jp/)
Nishinomiya City News
Event search system "Event information" (http://www.nishi.or.jp/event/0/)
You can visit our website using a computer terminal for local intranet services, "Joho-kenbunroku", located at community centers and other public facilities.